SUNNYSIDE FESTIVAL DU 13 AU 28 MAI 2016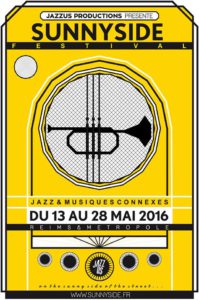 Festival around the jazz and related music. The artistic line always encourages more to cross the aesthetic barriers by offering artists who make jazz today and who do not hesitate to cross it with other influences (classical music, soul, world music …), providing a range of concerts ranging from contemporary to jazz more accessible.
This year the festival welcomes internationally renowned artists. Kyle Eastwood is not the son of Clint – for which he performed the soundtrack of films like Gran Torino, Invictus and Million Dollar Baby – this is especially a great bassist whose albums reveal his passion for hard bop lyric years 50 and 60 (Herbie Hancock, Horace Silver, Art Blakey and Miles Davis). Thomas Enhco he's the most talented pianist of his generation – as emphasized in its revelation of prices at the Victoires du Jazz – and he will give us a solo around a repertoire combining his compositions and classical works.